Originally posted in the Wharton Magazine
The Wharton School welcomed its 13th dean to the helm on July 1, 2014.
Geoffrey Garrett, most recently dean of the Business School at the University of New South Wales, Australia, is a political economist by training and a well-respected analyst and commentator on global business, economics and politics. No stranger to Wharton, he served as a member of the faculty in the Management Department from 1995 to 1997.
Garrett comes to Wharton at a time of strength—it is ranked in the top three business schools, owns a powerful global brand, and is alma mater to a large and influential (and ever-growing) alumni community. However, change comes fast in the 21st century—technologically and globally—and in part Garrett is charged with anticipating that change and setting Wharton's course ahead of it.
Wharton Magazine had the pleasure and the privilege to sit down with Garrett during his first month in office. What follows is an excerpt of that conversation.
We literally have elite eyes and ears, top business thinkers and leaders, all across the globe.

WHARTON MAGAZINE: How is the culture of Wharton different today than it was when you first were here?
GEOFFREY GARRETT: Several people have asked me how Wharton is different today than when I was here almost 20 years ago. The biggest change isn't in Wharton; it is in me. When I was here almost 20 years ago, I was an aspiring research academic, and that requires real tunnel vision. Today, my frame is much wider. I focus on identifying big opportunities and catalyzing the talents, ambitions and aspirations of other people to realize them.
What I see so vividly now is the unparalleled breadth and depth of world-leading talent at Wharton—among our faculty and staff, students and alumni—coupled with an innate and unique entrepreneurialism in the DNA of the place and everyone associated with it.
I just didn't see that extraordinary combination two decades ago. I am very glad I worked so hard on building my academic credentials because I could never have been dean today if I had not!
WM: How can alumni help the School better engage with the broader business community?
GARRETT: Engagement with the business community is very much a two-way street. I hope and believe the expertise of our faculty enriches our alumni in many meaningful ways, but we have a lot to learn from them too.
The scale and scope of change in the world of business is so great that it's hard for anyone to keep up. Our alumni are real leaders across the board. They can be not only our eyes and ears for what's going on, but they also can help interpret it for us. We literally have elite eyes and ears, top business thinkers and leaders, all across the globe.
Watch an excerpt from the Wharton Magazine video interview with Dean Geoffrey Garrett.
WM: What's your definition of "innovation"? How will you apply it on campus?
GARRETT: Innovation is a buzzword that's everywhere today, but clichés must be imbued with real meaning to have power. For me, innovation means finding better ways to do things that matter—in our research, in our teaching and in what we do as an institution. The size and quality of our teaching and research in innovation is probably underappreciated outside the School, and I certainly want to have perceptions of us catch up with the reality of what we are doing. I am equally proud of our own internal innovations, from Course Match to optimize course selection to our very popular Global Modular Courses.
I believe U.S. global economic leadership depends, above all, on its being an innovation engine and an immigration magnet for the world's most talented and ambitious people. Wharton is in the vanguard. We attract the best minds and most ambitious people from all over the world. People come here to change the world.
Our faculty members turbocharge student innovation through research-led, learning-by-doing programs.
The innovations Wharton produces will no doubt continue to have a big external impact, as they have done for over 130 years. But at least as important is implanting an innovation mindset in everyone associated with Wharton. Creating innovators is the best way to unleash the full power of innovation.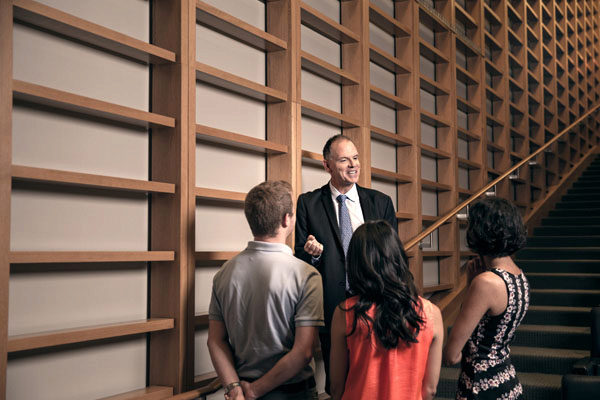 WM: How do you define "innovators"?
GARRETT: Innovators don't only want to do things differently. They also want to do them better. Innovators not only see new opportunities. They also seize them. Young people today believe if you've got a great idea, you can change the world tomorrow. After all, they have seen it happen over and over again in the past 20 years. The tremendous opportunities to harness, empower and inspire that kind of energy on campus just makes me so excited.
WM: How do you plan to build on the entrepreneurial spirit and activity existent on campus?
GARRETT: Innovation at Penn is white hot right now. The new Penn Center for Innovation focuses on the commercialization of the great intellectual property generated by researchers on campus. Wharton facilitates commercialization by bringing business savvy and business discipline to help realize the full potential of scientific breakthroughs.
No matter where you look, you see Wharton innovation and Wharton innovators everywhere.

The entrepreneurial spirit of Wharton students is palpable. We see it all the time in student clubs and what students are doing on their own. Our faculty members, then, turbocharge student innovation through research-led, learning-by-doing programs. Having our very well-placed alumni as mentors and advisers maximizes the launch trajectory of ideas incubated on campus.
The Mack Institute for Innovation Management supports and disseminates research by our faculty, mostly on innovation in large corporations. Wharton Entrepreneurship focuses on teaching our students best practices in startups. Our San Francisco campus is a gateway to the dynamism that defines Silicon Valley.
No matter where you look, you see Wharton innovation and Wharton innovators everywhere.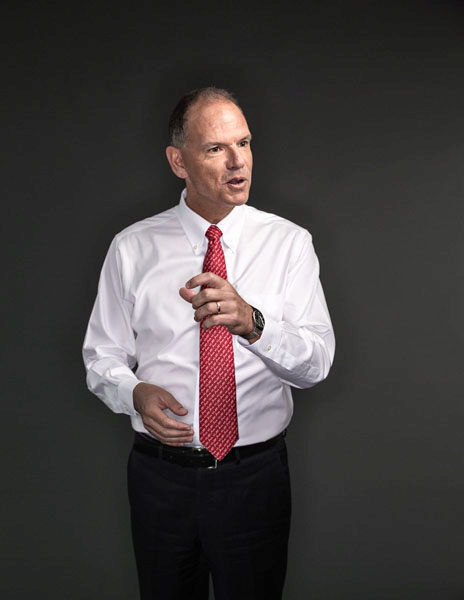 WM: One of Penn and Wharton's innovations has been their involvement with the online education platform Coursera. What do you feel are the top benefits to Wharton of participating in Coursera and MOOCs in general?
GARRETT: Wharton and Penn have been able to project our brand of high-quality education around the world through MOOCs—to extraordinary effect in a very short period of time. But there are other benefits to our vanguard role in the brave new world of online education. One is the sheer inspirational value of reaching over a million students in our first year with Coursera. The other great advantage of teaching students at massive scale is you can do real-time experiments with what works in the classroom: "Did I explain this concept well enough? Did the students get it?" You can do real time assessments and adjustments, with spillovers to teaching "regular classes."
Online education cannot replicate and will never be a substitute for the unique magic of our on-campus experience, built on ongoing, face-to-face human interactions, but I view online and on-campus education very much as a positive-sum game.
WM: What do you see as Wharton's role on the world stage?
GARRETT: The watchwords of the past two decades have been globalization and technology. In addition to our vanguard role in the world of technology-enabled education, Wharton is giving our students the chance to study, live and work all around the globe in programs led by faculty who have deep knowledge of each region. Global experiences are, at minimum, mind expanding, but they are often life changing as well.
Looking forward, I think the expanding role of business may well characterize the next decade or more. Social needs are mushrooming, while the capacity of government to meet them seems in retreat. The private sector will become increasingly central to societal well being, from public-private partnerships to build infrastructure to live-work-play developments to drive urbanization and urban renewal, from microfinance in Bangladesh and Philadelphia to alternative investments for sustaining Social Security.
Wharton is very well placed not only to study the expanding role of business, but to help lead it too. Our expertise in health care economics and management, social enterprise and impact investing are well known. The Penn Wharton Public Policy Initiative promises to give business perspectives a central role in Washington decision-making. The Penn Wharton China Center that will open next March in Beijing will provide the opportunity to work with government and business to continue China's economic miracle amid myriad significant challenges.
WM: Wharton is traditionally known as the finance school. Where do you see finance education heading?
GARRETT: Every day when I walk into my office, I see the original name of the school on Steinberg-Dietrich Hall: The Wharton School of Finance and Commerce. I cherish deeply our heritage as the leading finance school in the world. Rather than rest on our laurels, we want to use that heritage to seize the big opportunities of the future.
Leveraging our heritage means focusing on the new faces of finance that are powering the world economy, where our alumni and faculty are dynamic global leaders—private equity, real estate, hedge funds.
It also means linking what makes Wharton great in finance with what makes the school great in the rest of business education. Here, I think the key is quantitative analytics. In the era of big data, analytics is not only for geeks. Better analytics leads to better decisions, and better decisions are the foundation of leadership. Wharton is the best-positioned business school in the world to integrate sophisticated, data-based analysis into leadership.
WM: One of the discussions in the era of big data is that there might be too much data. How can business leaders make sense of it all?
GARRETT: When I became a social scientist 30 years ago, the problem was that there wasn't very much data, and the data were of poor quality. We had to try to make causal inferences when the information we had wasn't good or plentiful.
In today's big data world, the challenge is exactly the opposite. The challenge is to see the horizon through a blizzard of information. Think of those paintings that up close look like millions of dots but when viewed at a distance reveal a beautiful figure. Replace the dots with data, and the beautiful figures we can reveal are incisive decisions.
That is the promise of big data, and Wharton is extraordinarily well positioned not only to generate producers—that is, people who develop the algorithms—but also to ensure that all of our students become savvy consumers who analyze big data to see the future and to make it better.
WM: Describe your leadership style.
GARRETT: Everyone knows universities are far from top-down command-and-control environments. Universities are places where the goal is to harness the full potential of creative human capital. The way to lead is to develop a vision that is both aspirational and inspirational, to live by the credo of "be humble, respect everyone" and to focus on discussing ideas for doing things better as often as possible with as many people as possible.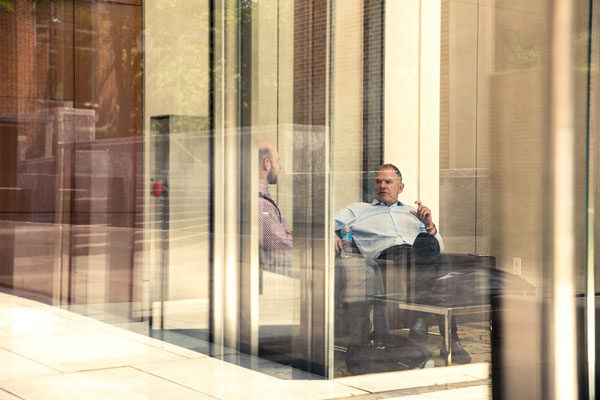 WM: Imagine yourself a year from now. What would have had to happen in your first year as dean for you to consider it a success?
GARRETT: I would really want to feel good about two things a year from now. The first would be to have listened as hard as I could to our faculty, our staff, our students and our alumni because the insight and commitment they bring to Wharton is extraordinary—they are Wharton.
Second, by the end of my first year as dean, I hope to have learned enough from this listening to have crystallized what I have heard into a compelling and actionable vision for Wharton for the next five or 10 years. I don't think it's realistic in a year to have a lot of granularity about what all the specific initiatives will end up being. But if we collectively can get a real sense of the principal opportunities in front of Wharton, and how best to marshal our incredible assets to take full advantage of them, I would be very satisfied with my first year.
Connect with Dean Geoffrey Garrett on a regular basis. Follow him on Twitter at @garrett_geoff.