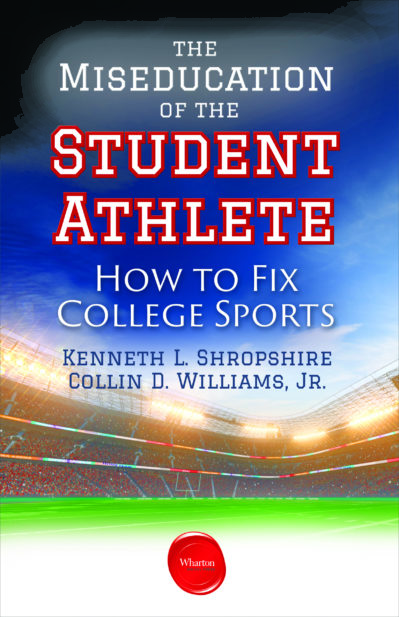 The student-athlete's life: practice, gym, weight room, film review, repeat. Simply put, sports come first. Academics is a distant second. 
As the revenues generated by big-time college sports continue to skyrocket, virtually all of the debate involves whether (and how much) student-athletes should be paid for play. Kenneth L. Shropshire and Collin D. Williams, Jr., argue that "student" has to come first in student-athlete: the focus should be on prioritizing a meaningful education.
In The Miseducation of the Student Athlete: How to Fix College Sports, Shropshire and Williams draw on new research to reveal that it has become increasingly difficult for college athletes to balance school and sports, much less a social life, leading to serious economic, professional, and emotional consequences for young people. Given that fewer than 2% of all college men's basketball and football players will play at the professional level, the other 98% of student-athletes must be prepared to find and perform well in jobs outside of their respective field of play.
In this bold call to action, Shropshire and Williams explain how we got here and what can be done about it. They lay out The Student-Athlete Manifesto, a roadmap to increase the likelihood that student-athletes can succeed both on and off the field. They also offer a Meaningful Degree Model, which ensures education pays for everyone, along with stories of success that show it is possible to be both a student and an athlete.
A critical read for student-athletes, sports leadership, policymakers, and anyone who loves college sports, The Miseducation of the Student Athlete has the potential to disrupt college sport and create lasting change.