The University of Pennsylvania and the Wharton School Launch the 2014 Application Process and Announce Additional Gift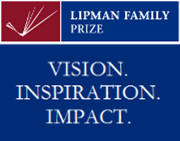 On July 19th, the University of Pennsylvania and the Wharton School announced the launch of the application process for the 2014 Barry and Marie Lipman Family Prize as well as an additional gift of $1.5 million from Barry R. Lipman to expand the scope and impact of the Prize.
Applications for the 2014 Lipman Family Prize are being accepted through 5 PM EST, Monday August 19, 2013.

Lipman, W'70, established the annual prize in 2011 to recognize and expand the work of organizations from around the world that are dedicated to creating sustainable solutions for social and economic challenges.
Lipman's gift will provide additional awards and resources to the competing organizations. The cash award for the winning organization has increased from $100,000 to $125,000, and finalists will now receive a cash award of $12,500. In addition to financial support, the Lipman Family Prize offers the winner and finalists non-cash benefits through access to University of Pennsylvania and Wharton School resources, including a tuition-free executive education program, pro-bono consultation from University faculty and staff and development of case studies and student projects.
"Our research shows that by increasing the amount and number of awards, a larger and more varied number of social impact organizations will apply, thereby increasing the influence of the Prize, the University of Pennsylvania, and the Wharton School within the social impact sector," said Lipman. "This will create student opportunities for more curriculum development, case studies and site visits. I hope this will lead to more students choosing social impact for their careers."
To read the complete press release click here. Additional information about the application process can be found on the Lipman Family Prize website.