When to Take Charge, When to Partner, and When to Stay Out of the Way
by Ram Charan, Michael Useem, Dennis Carey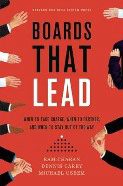 Earlier this month Harvard Business Review Press released a new book from authors and boardroom veterans Ram Charan, Dennis Carey, and Mike Useem. Boards that Lead: When to Take Charge, When to Partner, and When to Stay Out of the Way advocates a new model for governance that can help boards define a shared leadership model for participating in decisions that once solely belonged to the CEO.
Based on personal interviews and the authors' broad and deep experience working with executives and directors from dozens of the world's largest firms, including Apple, Boeing, Ford, Infosys, and Lenovo, Boards That Lead tells the inside story behind the successes and pitfalls of this new leadership model and explains how to:
Define the central idea of the company
Ensure that the right CEO is in place and potential successors identified
Recruit directors who add value
Root out board dysfunction
Select a board leader who deftly bridges the divide between management and the board
Set a high bar on ethics and risk
To read more about the book and the authors, click here.