"The READINESS IS ALL": RISING UP TO LEADERSHIP
17th Annual Wharton Leadership Conference held on June 19, 2013
by Kristi Ringen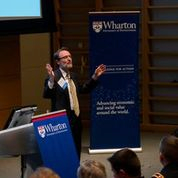 How do leaders prepare both themselves and their organizations to succeed during the predictable and unforeseeable future? On June 19th, a standing room only audience came to the 17th annual Wharton Leadership Conference looking for answers from eight engaging leaders from the field of business, government, the social sector and the arts.
Tom Morrison, the Global Head of Talent Practice for sponsor Deloitte, kicked-off the conference by stating that 67% of HR executives are citing gaps in leadership pipelines. He noted that global expatriate programs, as well as locally implemented leadership development programs are not resulting in the expected pool of global executive leaders. Flattening organizations due to advances in technology, globalization and generational shifts are forcing companies to define leadership in different ways. "Now more than ever," says Morrison, "it is imperative for leaders to speak in an authentic voice, taking cultural sensitivities into account in influencing across cultures."
These themes of authenticity and building cross-border relationships were evident throughout the day.
Denise Morrison, President and CEO, Campbell Soup Co.

Denise Morrison faced the challenges associated with building trust and strong international teams almost immediately after assuming the role of CEO at Campbell's in 2011. As CEO she introduced the Focus Forward campaign that led to three acquisitions for Campbell's – opening opportunities in new spaces, new geographies, new channels and new customer spaces. When dealing with international expansion she notes, "It's really important…to be sensitive to cultures and it is particularly relevant with food because food is very local." She spoke about the importance of leaving the existing leadership group in place for their acquisition in Denmark. "The temptation sometimes is to think you can do it better than they can, and that's not really the case. Now it's an opportunity to embrace them into the Campbell's family." To learn more about Denise Morrison, her work in the Focus Forward Campaign, and her rise to the top at Campbell's read the Knowledge@Wharton article.
Peter Grauer, Chairman, Bloomberg Inc.

Peter Grauer bases his personal approach to leadership on three principles: intimacy and relationships built on trust, humility honed by deep self-assessment after failures, and dedicated time for reflection. But given his role as CEO for one of the largest data-driven companies in the financial industry, Mr. Grauer knew he needed to think about leadership as a hard science to create a leadership profile fit for his organization. For that reason, he and his team dug into years of performance data and discovered the following trend: "The more highly praised a manager was," he emphasized, "the more frequently feedback providers would provide conjunction comments." Through these conjunction comments effective managers were recognized for demonstrating combinations of leadership traits that may have seemed at odds with each other. (See specific examples below.)
This trend, aptly called "the AND factor" has become Bloomberg's aspirational definition of leadership specific to the culture and grounded in measurable data. Although still labeled a work in progress, the AND factor already plays a critical role in Bloomberg's recruiting and performance management processes.
The Six ANDS of Leaders at Bloomberg:
1) Leaders at Bloomberg are demanding, straight talking AND exhibit humanity, compassion, and a sense of humor.
2) Leaders at Bloomberg give strong clear direction AND remain open to challenge and new ideas from others.
3) Leaders at Bloomberg are involved side-by-side with the team AND can still trust and encourage learning and development.
4) Leaders at Bloomberg deliver exceptional customer service AND put Bloomberg's interests first and are dedicated to the company.
5) Leaders at Bloomberg work hard AND are accessible, responsive and approachable.
6) Leaders at Bloomberg move and execute quickly AND are future focused, visionary and strategic.
Valerie Amos, Under-Secretary-General, UN

On the day of the conference, Valerie Amos woke up to the news that there had been a major bombing at the UN Office in Mogadishu, Somalia. One could tell by listening to her talk about visits to refugee camps in Jordan and the sleep she loses over the situation in Syria that she brings a great deal of authenticity and personal mission in her role where she sees world crises proliferating, instead of diminishing. In describing her leadership and communication style she said, "I don't hide when I am moved by something." Amos is inspired by the strengthening link between profits and social responsibility in business. Says Amos, "You can make money and be socially responsible. I like the fact that these two things have come together so powerfully." She called on the business leaders in the audience to help organizations like the UN with risk management, technology and innovation and building and growing partnerships in new and developing areas of work.
Alex Gorsky, CEO, Johnson & Johnson

Alex Gorsky's conversation with Mike Useem was introduced with Johnson & Johnson's 300+ word credo, a statement of values written 70 years ago by the company's founder, Robert Wood Johnson. Originally written to ensure that the company would not lose its way when going public, the credo shows a commitment to customers, employees and social responsibility. Mr. Gorsky stated that an alignment with these priorities has been, and will continue to be, critical to a leader's success at J&J.
In determining leadership potential, Gorsky places a premium on an individual's ability to build teams and strong leaders for the future. When interviewing executive candidates Gorsky asks them to name 3-4 people who would say (the candidate) had a significant impact on their career. "If someone doesn't have a clear list, they may be a good leader themselves but may not be good at building teams." For Gorsky, a leader that builds strong teams leverages synergies that allow individual team members to accomplish much more as a group then they could alone. In his words, "You need (a leader) that can make 1+1+1 equal about 7."
Joseph Pfeifer, Chief of Counterterrorism, FDNY

As the first captain on site at the World Trade Center bombings on 9/11, Joe Pfeifer learned to lead during what he calls a "novel crisis," one we have never experienced before. He listed five forces that affect how we lead in a crisis: 1) physical, 2) operational, 3) psychological, 4) social, and 5) political.  Says Pfeifer, "There are multiple forces working during a crisis and if we are not aware of them, our decision making is limited."
According to Pfeiffer, leaders often give the physical and operational aspects of a crisis priority over the others and stated, "Many times we like to think (the crisis) is routine." Leaders, even on days like 9/11, don't realize that psychologically "we become overconfident, overweigh our experience, become addicted to operations and concentrate on tactics." Mr. Pfeifer noted that on 9/11 first responders didn't see the social aspect of leadership at work when police and firefighters communicated only within their own organizations, rather than sharing or asking for critical information. Even Mayor Giuliani, perhaps the most visible leader during and after 9/11, failed to see the political force of leadership when he declared on November 2, 2001 that the ground zero site would be closed, and recovery efforts ended, in an effort to get the city back to normal. Giuliani eventually reversed his decision after family members of those lost in the tragedy rose up as strategic stakeholders in the situation.
Mr. Pfeifer recognized that while most leaders are comfortable with hierarchical structures, the key to successful leadership in a disaster is a random network: connecting clusters of people in the following way:
1) Connect : Form hastily formed networks, connect locally and reach out
2) Collaborate: Flatten the command and make it personal "we are doing this together"
3) Coordinate: Leverage core competencies and the best people we have.
Lt. General Jeffrey Talley Chief of Army Reserve, and Commanding General

Lt. General Jeffrey Talley defines leadership as being about "commitment, confidence and character." "And character," he adds, "is the most important by far." Talley defines character as "doing what's right when nobody is looking" and he provided the audience with his perspective on what it is to be a leader.
The purpose of a leader is to grow other leaders.
A leader needs to provide common sense of purpose and direction and has to be ready to serve something greater than him or herself.
As you move up in an organization, it is important to manage up and shape what is coming toward you.
Organizations tend to take on personality of the leader. Ask yourself what kind of an organization you want and what kind of personality you have.
Leaders need to focus people. You want people to be creative but not at the expense of getting work done.
Disrupt your own technology – rather than wait for someone or something else to disrupt it.
Embrace and value diversity. Doing so, "might be uncomfortable or slow me down a little but I am probably going to get to a better solution or a better idea."
Marketing and branding are everything but the most important brand is you and your reputation.
You need to risk aware, not risk averse. If you don't take risk in life, you will never do anything.
Learn to accept constructive criticism. In reality, most of us are average.
Andrew Muir, Executive Director, The Wilderness Foundation

Andrew Muir took conference participants on a photographic wilderness trail similar to the real ones led by the Wilderness Leadership School. While walking among lions, rhinos, and crocodiles, Muir points out, "It's not just about the animals. We teach the interdependencies of animals on each other, and then the interdependencies of humans on the natural world."
Muir, who grew up in a time of tremendous conflict in South Africa, has leveraged the strength of this interdependence and used his love of nature as a way to solve social problems. Through the South African based Umzi Wethu program, Muir recruited AIDS orphans for an accredited training program in ecotourism with a guaranteed job upon graduation. Throughout the program's nine year tenure, 94% of all participants currently hold jobs as game rangers, chefs, and social entrepreneurs. He recalls, "I really believed and had a mission that in the environment, in the natural world, were some answers to these issues facing us."
Platon, Award-Winning Photographer

Platon ended the conference with a slideshow of intimate portraits taken over the course of his career. With each portrait of a world leader, celebrity, CEO or ordinary citizen came a powerful story of Platon and how his candor, his humor, his sincerity, and his understanding of the subject served as the key to making his subjects comfortable and open during their photo shoot.
For example, when taking a photo of Vladimir Putin, Platon began by saying, "I am a huge Beatles fan, are you?" Putin responded by telling most of his security force to leave the room. "That pop art connection," states Platon, "allowed me to get close, and I ended up an inch and a half away from his nose and that is how I caught the real, authoritative power that he has. And you can't get this close unless you are brave enough to get your hands dirty."