Note: The following article was originally published in NCAA Magazine on October 23, 2017. This partnership is possible due to a $1 million commitment from alumnus David S. Pottruck to establish the Penn Athletics Wharton Leadership Academy. For the original press release, please go here.  
College sports and leadership skills have long gone hand in hand. But University of Pennsylvania athletics has partnered with a renowned program on its campus to give student-athletes even more exposure to top-notch leadership training.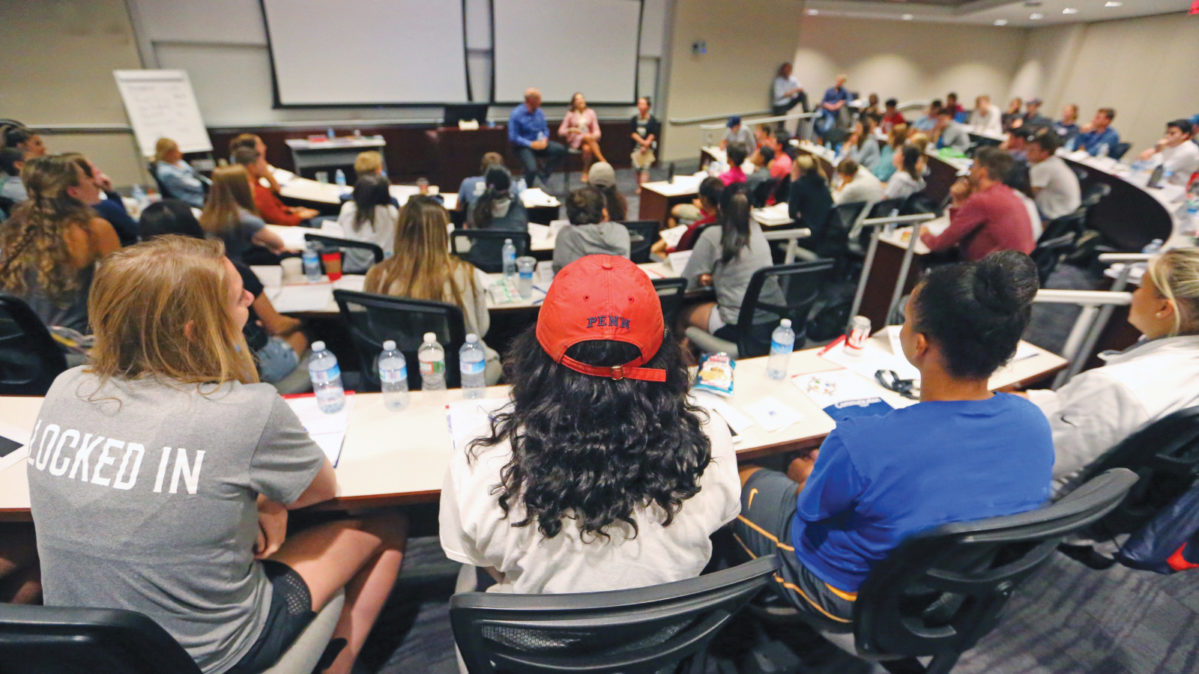 This fall, all team captains and other select student-athletes will participate in an innovative program that partners Pennsylvania athletics with The Wharton School, the world's first collegiate business school and a pillar of the university's academic reputation. "To me, it feels like we're leveraging the strength of Penn to take a process in leadership development that happens organically in a sports team, but we're adding an educational richness to it," Athletics Director Grace Calhoun says.
Students in the Penn Athletics Wharton Leadership Academy will participate in monthly workshops and seminars delivered by athletics staff and coaches, as well as faculty and staff from The Wharton School's Anne and John McNulty Leadership Program. In the first year, the students will learn foundational items — being a helpful member on a team, being a good follower, being responsible, understanding behavior — and will build on those skills to eventually study emotional intelligence and communication and leadership styles.
"This experience allows the student-athlete to be even more marketable than they already are," says Sherryta Freeman, Pennsylvania senior associate director of athletics and senior woman administrator. "We think that this program will make them even more prepared for the opportunities they will have in the future."