by Michael Useem

William P. Lauder, Executive Chairman of The Estée Lauder Companies, Inc., developed and offered a new course for second year Wharton MBA-students during the spring of 2013. Entitled "Decision Making in the Leadership Chair," the seven-week course brought to campus an array of top executives who themselves have led from the corner office.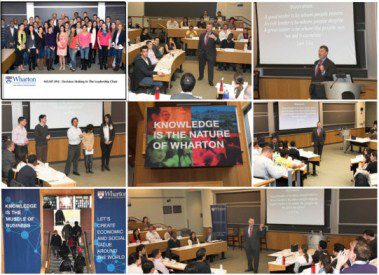 In recounting their personal experiences navigating through significant challenges, the guest instructors stressed the importance of balancing both "head" and "heart" in their leadership decisions; reconciling the often competing interests of employees, customers, regulators, investors, suppliers, and shareholders; and bringing both personal leadership agility and a deep understanding of the business to the corner office. The 40 students (more than 150 applied) learned directly from those who have led large-scale enterprises. Here is a sampling of their lessons:
William P. Lauder, Executive Chairman, The Estée Lauder Companies: Help others be great.
Mr. Lauder quoted from Lau Tzu, the 6th century B.C. Chinese philosopher: "A leader is most effective when people barely know he exists. When his work is done, his aim fulfilled, his troops will feel they did it themselves." Great leaders, Mr. Lauder stressed, "multiply" themselves by teaching employees how to think about decisions and empowering them to take ownership of the decisions. Only then can a leader focus on the larger vision of the company.
William Clay Ford, Jr., Executive Chairman, Ford Motor Company: Zig when others zag.
Great leaders see far ahead and are not content to follow the pack. Several years before the 2007-2008 financial downturn, William Ford believed that the American auto industry's success from surging short-term gains from SUV sales could not be sustained. Despite solid financials, he convinced his board to approve a restructuring plan to ready the company for the turbulence ahead. When the crisis hit in 2008 and both General Motors and Chrysler entered bankruptcy, Ford already had in place a massive credit line that enabled it to weather the storm on its own and emerge stronger than ever.
Lauren Zalaznick, Chairman, Entertainment & Digital Networks and Integrated Media, NBCUniversal: Act now.
Drawing on an act-now philosophy, Lauren Zalaznick pulled the plug on Bravo Network's hottest show, "Queer Eye for the Straight Guy," having concluded it was unsustainable. Instead of milking the show for as long as possible, she and her team used their experience with the show to develop a more compelling template for future programs on Bravo, leading to a portfolio of successful offerings including "Project Runway" and "Housewives."
Arthur Sulzberger, Jr., Chairman, The New York Times Company and Publisher, The New York Times: Stay flexible.
Arthur Sulzberger, Jr., stressed the importance of having a clear mission but exercising great flexibility in getting there. "If you establish a path and say, 'this is where we're going,' you're in trouble," he said. It is more important to build a top team that can collectively evolve the company's path forward than to specify well in advance where the company should be going. This leadership attitude proved providential when The New York Times came face to face with the Internet and digital delivery. Instead of defining itself as "a newspaper," Mr. Sulzberger and his team stressed The Times' mission as an information provider, hastening its expansion into digital content and helping ensure that it prospered in an era when many print publications failed to survive.
Richard Parsons, Former Chairman, Citigroup and former Chairman & CEO, AOL Time Warner: Work with the culture
Richard Parsons had held a front-row seat to the ill-fated AOL Time Warner merger in 2000. Resolving the technical complexities of the deal and the merging of two business models – one stressed subscriptions, the other advertising – turned out to be easier than blending two very different corporate cultures. In the end, the resulting cultural mistrust and even antipathy between the executive teams of the two firms prevented them from fusing, a cautionary note for students preparing to work on mergers and acquisitions in management consulting or investment banking.
Edward Breen, Chairman, Tyco International: Appeal to people's humanity.
Not all business decisions revolve around profit and loss statements. Far from it, said Ed Breen, who joined Tyco amidst a financial scandal that nearly bankrupted the company. Facing angry regulators, Mr. Breen reminded them that Tyco had 240,000 employees with families—close to a million people—whose lives were riding on the outcome of the investigation. Appealing to this shared humanity managed to reduce the tension and hostility, eventually leading to a more productive conversation.
James D. Robinson, Co-Founder & Managing Partner, RRE Ventures: Avoid throwing good money after bad.
As a partner in a $1-billion venture-capital fund, James Robinson has focused on growth, but knowing when to pull the plug proved equally important. Effective leaders intuit when to walk away from a situation in which they have already invested, he said, and for that, having a set of "rules" to help trigger a decision of when to cut one's losses can be invaluable for reaching a tough decision.
The guest instructors all emphasized that they faced a special challenge with the quality of the information coming up to them from inside the company. The higher they rose in the hierarchy, the rosier became the news. Each had devised ways for learning what was really going on in the business. Mr. Ford, for example, regularly walked the floors of the company's factories unannounced, lingering to talk informally with front-line employees. Similarly, Mr. Lauder and his leadership team regularly visit regional operations to directly feel the local market dynamics and evolving consumer preferences.
William P. Lauder plans offer the course again in early 2014.