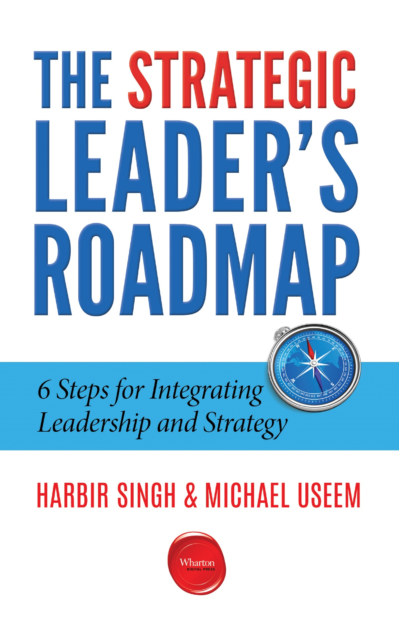 A new book has come out by longtime Wharton Management Professors Harbir Singh and Mike Useem. The Strategic Leader's Roadmap: 6 Steps for Integrating Leadership and Strategy draws from in-depth research, one-on-one interviews with CEOs, and their experience teaching today's executives, Singh and Useem take readers into the offices — and mindsets — of some of today's foremost strategic leaders. In The Strategic Leader's Roadmap, Singh and Useem explore what it takes for leaders to successfully and effectively integrate strategy and leadership. See how Carlos Ghosn, longtime CEO of Nissan Motor Co. and Renault, successfully applied both to become a truly strategic leader over the long term. Witness Cisco CEO John Chambers keep his firm at the forefront of multiple generations of technology. Watch Alibaba CEO Jack Ma outperform eBay in China on his way to the largest IPO ever at $25 billion. Singh and Useem's main finding from these strategic leaders is that they have all effectively combined company strategy with personal leadership—and that they each mastered that ability through deliberate, self-directed learning.
Read the following book review by Bob Morris, Top 100 Amazon book reviewer and editor of Blogging on Business
The Strategic Leader's Roadmap is available as both a paperback and an ebook from Wharton School Press. wsp.wharton.upenn.edu
About the Authors:
Harbir Singh, coauthor of The India Way, is Co-director of the Mack Institute for Innovation Management, Mack Professor of Management, and Vice Dean for Global Initiatives at the Wharton School. His research and teaching interests include corporate governance, strategic management, alliances, innovation, and strategies for corporate acquisitions.
---
Michael Useem, author of The Leader's Checklist and coauthor of Boards That Lead, is Egan Professor of Management, Faculty Director of the McNulty Leadership Program, and Director of the Center for Leadership and Change Management at the Wharton School. His research and teaching interests include corporate governance, risk management, decision making, organizational leadership, and change management.