Geoffrey Garrett Named Dean of the Wharton School at the University of Pennsylvania
Geoffrey Garrett has been named dean of the Wharton School at the University of Pennsylvania, effective July 1. The announcement was made today by Penn President Amy Gutmann and Provost Vincent Price.
"Geoff Garrett has a proven track record as an eminent interdisciplinary scholar and strong and collaborative strategic leader," Gutmann said. "He has a deep understanding of Wharton's distinctive mission and a compelling vision for the role of business schools in an era of rapid change and globalization. Geoff has unique experience in international business and business education and is absolutely the right person to partner with Wharton faculty, students, staff and alumni to take the School to even greater heights."A former faculty member in Wharton's management department, Garrett is currently dean and professor of business in the Australian School of Business at the University of New South Wales. He is a distinguished political economist who has held positions at some of the world's most eminent institutions.
The Australian School of Business at UNSW is a leading contributor to business research and education for the Asia Pacific region. As dean, Garrett oversees a school that is home to 357 faculty and researchers, eight academic departments and nine research centers and enrolls more than 12,000 students. During his tenure, scholarly productivity and external engagement have both grown, reflecting his belief that the best business schools must translate into practice the lessons learned from rigorous methodologically sophisticated research.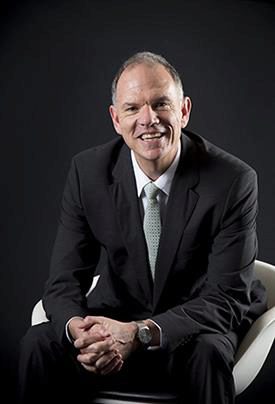 "Geoff has a deep appreciation for the role of interdisciplinary research and teaching in research universities," Price said. "At UNSW he helped oversee the creation of a university-wide innovation center, bringing together faculty and students from business, design, engineering and science. His approach to scholarship and discovery fits perfectly with Penn's commitment to integrating knowledge across disciplines."
"It will be my honor and privilege to work with such fantastic colleagues, students and alumni at Wharton and all around the University," Garrett said. "Like other sectors, globalization and technological change are poised to transform business education. I have no doubt Wharton will be in the vanguard of this transformation in America and around the world."
Before joining UNSW, Garrett served as dean of the Business School at the University of Sydney and as founding CEO of the United States Studies Centre at the University of Sydney, an important hub that brought together scholars of business, economics, politics and the humanities to deepen understanding of contemporary American issues across Australia and the Pacific Rim. He served earlier as president of the Pacific Council on International Policy in Los Angeles and as a faculty member at the University of Southern California; as vice provost and dean of the UCLA International Institute; as director of the Leitner Program in International and Comparative Political Economy and director of the Ethics, Politics and Economics program at Yale; and as a faculty member at Wharton and at Oxford and Stanford universities. He has served on the boards of the Asia Foundation, the Centre for Social Impact and the Centre for International Finance and Regulation.
A distinguished social scientist and expert on globalization, Garrett has authored or co-edited three books, written 45 scholarly articles, produced dozens of chapters and essays and contributed more than 100 opinion articles to newspapers around the world. He is a former Fulbright Scholar, a member of the Council on Foreign Relations and of the Academy of Social Sciences in Australia and has served on the editorial boards of journals including International Organization, World Politics and Global Policy. He is an honors graduate of the Australian National University and completed his master's and doctoral degrees in political science at Duke University.
"Our selection of Geoff Garrett as the next dean of the Wharton School successfully concludes a global search to find a successor to Tom Robertson, who has served with distinction as dean of since 2007," Gutmann said. "Under Tom's leadership, Wharton has solidified its position as one of the world's preeminent business schools, deepened its investments in traditional areas of strength and emerged as a leader in major strategic areas, including global engagement, innovation and social impact."
Founded in 1881 as the first collegiate business school, the Wharton School of the University of Pennsylvania is recognized globally for intellectual leadership and ongoing innovation across every major discipline of business education. With a broad global community and one of the most published business school faculties, Wharton creates economic and social value around the world. The School has 5,000 undergraduate, MBA, executive MBA and doctoral students; more than 9,000 participants in executive education programs annually; and a powerful alumni network of 92,000 graduates.