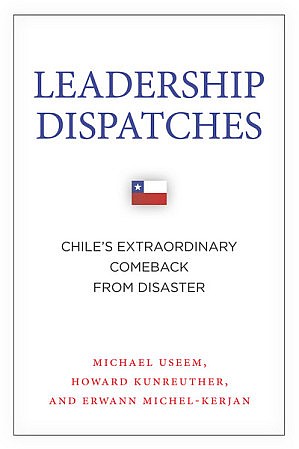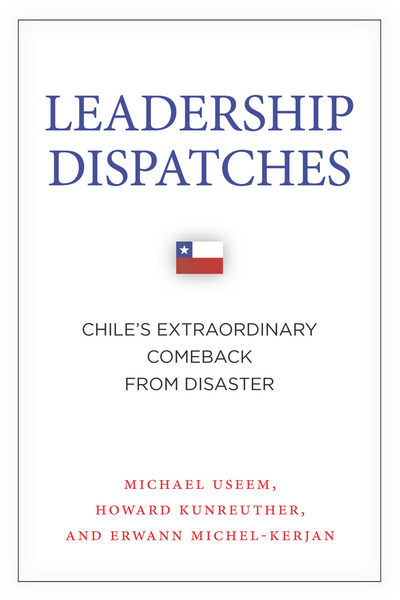 On February 27, 2010, Chile was rocked by a violent earthquake five hundred times more powerful than the one that hit Haiti just six weeks prior. The Chilean earthquake devastated schools, hospitals, roads, and homes, paralyzing the country for weeks and causing economic damage that was equal to 18 percent of Chile's GDP. This calamity hit just as an incumbent political regime was packing its bags and a new administration was preparing to take office. For most countries, it would have taken years, if not decades, to recover from such an event. Yet, only one year later, Chile's economy had reached a six percent annual growth rate.
In Leadership Dispatches, Michael Useem, Howard Kunreuther, and Erwann Michel-Kerjan look at how the nation's leaders—in government, business, religion, academia, and beyond—facilitated Chile's recovery. They attribute Chile's remarkable comeback to a two-part formula consisting of strong national leadership on the one hand, and deeply rooted institutional practices on the other. Coupled with strategic, deliberative thinking, these levers enabled Chile to bounce back quickly and exceed its prior national performance. The authors make the case that the Chilean story contains lessons for a broad range of organizations and governments the world over.
Large-scale catastrophes of many kinds—from technological meltdowns to disease pandemics—have been on the rise in recent years. Now is the time to seek ideas and guidance from other leaders who have triumphed in the wake of a disaster. In this vein, Leadership Dispatches is both a remarkable story of resilience and an instructive look at how those with the greatest responsibility for a country, company, or community should lead.
About the authors
Michael Useem is William and Jaclyn Egan Professor of Management at The Wharton School, where he is also Director of the Center for Leadership and Change Management. His previously books include The India Way, The Go Point, Leading Up, and The Leadership Moment.
Howard Kunreuther is James G. Dinan Professor of Decision Sciences and Public Policy at The Wharton School. He is a member of the OECD's High-Level Advisory Board on Financial Management of Large-Scale Catastrophes, a fellow of the American Association for the Advancement of Science, and distinguished fellow of the Society for Risk Analysis, from which he received the Distinguished Achievement Award in 2001.
Erwann Michel-Kerjan is Executive Director of the Center for Risk Management and Decision Processes at the Wharton School. The author of over 100 publications, his views regularly appear in outlets like the BBC, CNN, The Economist, the New York Times, and the Wall Street Journal. He was named as one of the World Economic Forum's Young Global Leaders in 2007.
Advance commentary on Leadership Dispatches
"Leadership Dispatches is an empowering story of recovery in the wake of an unprecedented natural disaster. This comprehensive study provides valuable insights into the importance of leadership in a crisis, as well as the world of preparedness and resiliency."—Tom Ridge, First Secretary, U.S. Department of Homeland Security and Former Governor of Pennsylvania

"Three of the world's most respected authorities in leadership and risk management join forces to tell us a rare story of courage, determination, and the importance of a multi-stakeholder strategy. Their unique checklist for leaders will prepare many heads of state and organizations to take charge and do the impossible when their own F-27 hits. A remarkable book."—Klaus Schwab, Founder and Chairman, World Economic Forum

"Recent disasters in Chile, Italy, Japan, Mexico, and New Zealand offer important lessons for the future. This book brilliantly documents concrete experiences in managing risk and responding to disaster; it contributes to longstanding efforts of organizations like the OECD to distill best practices and create a vital platform for knowledge sharing."—Angel Gurria, Secretary General, Organization for Economic Cooperation and Development
"This book is filled with practical analysis of what went right in Chile's dramatic recovery from the devastating F27 earthquake. It offers important lessons for current and future leaders in countries and organizations that face the possibility of major disruptions. Read this book before disaster strikes! And if you haven't, then read it when crisis hits. It provides the best roadmap that you will find toward the future that you will then be hoping for."—Herman ("Dutch") Leonard, Harvard Kennedy School and Harvard Business School
"This volume provides a fascinating in depth analysis of Chile's remarkable recovery from the 2010 earthquake and offers sound advice on leadership for any administration likely to have to deal with a major disaster event in the future." —Margareta Wahlström, Special Representative of the United Nations Secretary-General for Disaster Risk Reduction
.