The Power of Impact Investing: Putting Markets to Work for Profit and Global Good
by Judith Rodin and Margot Brandenburg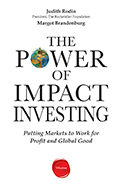 Philanthropy is a transformative force for good. But global philanthropic funds, even when combined with the development or aid budgets of many national governments, add up to mere billions of dollars. Meanwhile, the cost of solving problems such as water scarcity, climate change, and lack of access to health care, education, and affordable housing runs into the trillions.
Unlocking even a small percentage of the global markets will dramatically expand the resources available to address the world's biggest social and environmental problems.


Now, a new wave of investors is using impact investing—investments intended to generate both financial returns and social and environmental impact—to do just that.
In The Power of Impact Investing, Rockefeller Foundation president Judith Rodin and Margot Brandenburg, two of the foremost experts in the field, explain what impact investing is, how it compares to philanthropy and traditional investments, where opportunities are evolving around the world, and how to get started.
By sharing moving stories of impact investors and the exciting social enterprises benefiting from these investments, Rodin and Brandenburg offer a compelling resource for anyone interested in better understanding the power of impact investing—including retail investors, high-net-worth individuals, and heads of family offices, foundations, banks, and pension funds—while also offering experienced impact investors an opportunity to deepen their knowledge and benefit from the perspectives of other investors.
About the Authors
Judith Rodin is president of the Rockefeller Foundation, one of the world's leading philanthropic organizations. She previously served as the President of the University of Pennsylvania and provost at Yale.
Margot Brandenburg was formerly senior associate director at the Rockefeller Foundation, and is currently a fellow at the Nathan Cummings Foundation, where she is working on the launch of several social enterprise start-ups.
For more than 100 years, the Rockefeller Foundation's mission has been to promote the well-being of humanity throughout the world. To learn more, please visit www.rockefellerfoundation.org.
For more information and details on ordering, please see Wharton Digital Press.