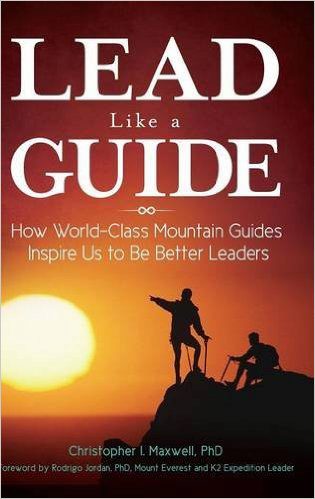 A new book has come out by former Wharton Management 100 Professor Chris Maxwell. Lead Like A Guide: How World-Class Mountain Guides Inspire Us to Be Better Leaders is a labor of love almost 10 years in the making. Professor Maxwell, former director of the Wharton Undergraduate Leadership Ventures and current Senior Fellow with the Wharton Center for Leadership and Change Management traveled around the globe interviewing world-class mountain guides and over 200 business school participants to compile the findings in his book.
This intriguing approach to business and personal success introduces six leadership strengths of world-class mountain guides: demonstrating social intelligence, adopting a flexible leadership style, empowering others, facilitating the development of trust, managing risk in an environment of uncertainty, and seeing the big picture. The premise? That these same strengths provide a valuable model in the workplace and other networks, whether one is already in a leadership position or aspiring to get there. The result of more than a decade of research combined with the author's personal experience, the book explains how mountain guides coach people to reach for their highest goals in the most challenging environments, often enabling them to far exceed what they imagined possible. The same principles can be applied in business and elsewhere.
"Chris valuably includes a number of lessons learned and applied, which present excellent examples of his students' experiences when they applied these six leadership strengths in their own work environments.  This strongly validates that the way mountain guides exercise leadership can indeed be transferred to other realities, from the factory floor to the boardroom."  –

Mount Everest climber and educator, Rodrigo Jordan
To set readers on the right path, the author explains each of six strengths of guides, incorporating interviews and quotes from the guides and from expedition participants to illustrate leadership lessons and show how they can be successfully utilized on the slopes. The book also provides a checklist of action steps readers can follow to foster skill development.
Discover leadership strengths of world-class mountain guides and see how developing these principles can help you reach for the highest summits in work―and in life.
Shares insights drawn from challenging experiences that will be inspiring and meaningful to readers.
Includes contributions from participants who tell, in their own words, how they applied lessons learned in organizations from American Express to Microsoft to a Silicon Valley startup.
Provides action steps for readers drawn from current research in the fields of management and positive psychology.
Read here for a Book Review by Anne Greenhalgh, Deputy Director, McNulty Leadership Program
---
Christopher Maxwell, PhD, is Senior Fellow, Center for Leadership and Change Management, The Wharton School of the University of Pennsylvania. He taught a foundation leadership course at the Wharton School for 15 years and created a leadership development program for undergraduates that took more than 200 business students to high peaks and trails in six countries. Maxwell's work has been published by the Organization Management Journal, Wharton@Work, Center for Creative Leadership, and the Wharton Leadership Digest. Chris Maxwell can be contacted through his website, www.leadlikeaguide.com